Deer Blinds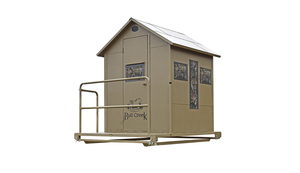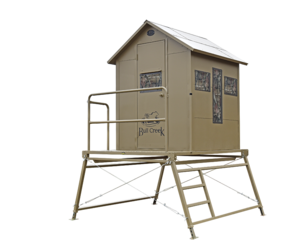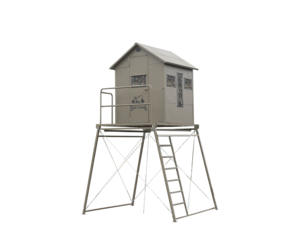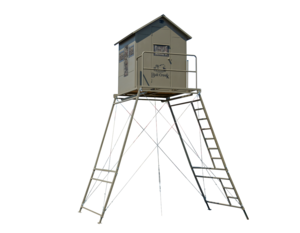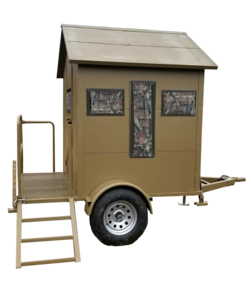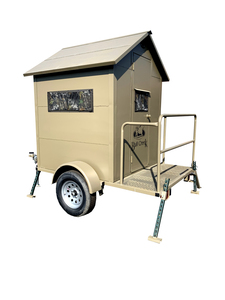 Start Hunting with a Blind that puts you Ahead of the Game

Bull Creek Blinds were created for families and outdoorsmen. As the owner of Bull Creek, I spent many years putting up blinds that were difficult to raise, and then they needed to be maintained yearly to even hunt out of them. I was also tired of fighting wasp inside the blind while my children and I tried to hunt. I decided to manufacture a blind that would not rot, could seal up to keep wasp out, would keep you warm on cold days, and was safe to raise. This led to the design of our Bull Creek Blinds.

The blind itself is made from exterior fiberglass door panels. The R15 insulating factor keeps the blind warm on those cold days. The insulated panels and carpeted floor help keep the noise level down within the blind as well.

The aluminum framed glass windows hinge quietly and secure inside the blind. There are three windows on three sides, two for guns and one for a bow. The six-foot lockable door has one gun window as well. Bull Creek Curtains can be purchased to go on the outside of the blind to help conceal movement inside the blind. There are three removable carpeted shooting ledges that can be removed for bow hunting.

I created the Bull Creek Tower System to be different from anything on the market. I wanted a system that would be quick and safe to install. The tower system conveniently folds up for transportation or skidding. The extensions can easily be locked together and folded down with the use of pins only (no nuts or bolts). As the platform is raised with a lift or tractor forks, the extensions hinge down in place and are pinned securely. All tower kits come with adjustable feet, tie-down anchor, cables, and pins for added stability. This stand can be up and ready to go in 20 minutes.


All Deer Blinds Come Standard with these features:
Sealed & Insulated – R15 Insulating Factor (Ridged Fiberglass Insulated Panels)
6′ Lockable Walk-Thru Door
5' x 5' Interior Dimensions
30″ Platform for easy access
Easy access aluminum framed glass hinged windows
Curtains available upon request
Removable 6" Carpeted shooting ledge
Carpeted Floors
1 corner shelf
Heavy Built Platform that goes from skidding the blind into place to safely raising with a lift

5-year warranty on all craftsmanship